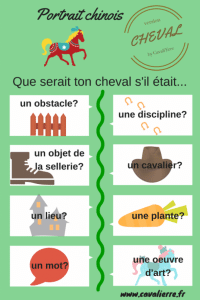 It is not so simple to imagine through his horse, I sometimes have to dig my head a bit (as much as if I answered for me elsewhere). But I wanted to reply to this Tag by reading it on Cavali'Erre's blog, then we were tagged by equine Vision.
One article and two authors for the vision of 2 mares.
Mermaid
If Mermaid was an obstacle: it would be a puddle, impenetrable! Even if at the bottom of the puddle there is no monster. Because after all the puddle is the biggest obstacle of his life.
If Mermaid was a discipline: cuddling in the meadow, because it's great but not always easy. What do you mean it's not a discipline?
If Mermaid was an object of the Saddlery: a sponge (yes the sponge in the form of a pony, I have no other). She absorbs all emotions and ends up sending everything back with her little personal touch.
If Mermaid was a rider, she would be a rider as we see so many and as we all are. But once in confidence totally metamorphosed and unforgettable.
If Mermaid was a place: it would be a large expanse of grass, no matter the exact place. She loves to gallop and eat. A large expanse of grass is simple but at least there is the essential.
If Mermaid was a plant: she would be a clementine (for those who read the article unusual stories, it was just a fact). Because she loves it. Then she's a little bit like a clementine, with a thick skin that's hard to pierce. With a juicy and fluffy heart but sometimes with glitches. (The pretty two-ball metaphor)
If Mermaid was a word: crazy, because she's not necessarily alone in her head, but the more crazy we are, the more we laugh.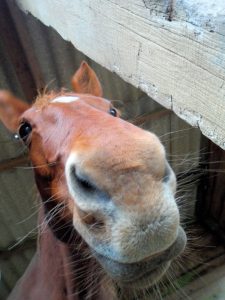 If Mermaid was a work of art, it would be a Mozart symphony. Rich, complex, sometimes gentle and sometimes powerful. But finally so beautiful.

Titouane
An obstacle? I think Titouane would be a small vertical of 50 cm because a cross or a small obstacle it is no use to jump when you can step over it, a vertical of 70 cm it is too much effort for it while a vertical of 50 cm it is necessary to lift the legs in case that E It would eat the female Bai ponies.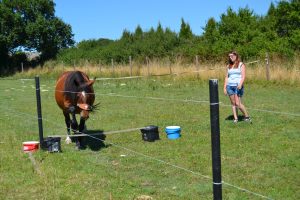 A discipline? The Glandouille? What do you mean it's not a discipline? Well then I would say that it is the work at liberty because it can express itself as it sings while remaining nevertheless concentrated.
An object of the Saddlery? I would say a soft brush because it is the saddle brush that does not sting, does not tickle, does not scare and that is pleasing to the touch.
A rider? I would say that she would be like me because often it is said that the horse is the reflection of the rider. Nice but with a certain character that sometimes is lacking in the relationship with others. And with a little touch of madness because otherwise it would not be funny.
A place? A green meadow with a small pond to go swimming bah yes it's always fun to go to bed in the water and then in the grass like that is the surprise for me when I come to brush it.
A plant? Without hesitation a pear because it is juicy but granular at the same time with a particular taste. And if you have a pear in your hand, you become Titouane best friend.
A word? Shity because under her adorable pony head to whom one wants to make a love is hidden a sacred mare character who knows when she does not like.
A work of art? Despite its strong character it can be soft and have a soothing effect when you feel unwell, it is endearing and can make you a lot of loving to just make you smile. So I would say that it is like the photo of Yann Arthus Bertrand.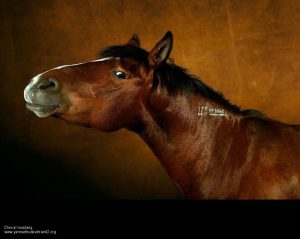 Eleanor
Coralie