This is the first time we have participated in the Cavalcade of the blog, must say that we are new, the cavalcade of blogs is explained here: What is the cavalcade?   Every month a theme is given by a blog that hosts the cavalcade, this month this is eduquer-son-cheval.com.  And the theme launched is so inspiring that I could not resist, I would not reveal it on this blog if you want to know it before reading the article it's around here.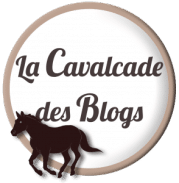 Since I was a little girl I dreamed of having my own horse. Like a lot of budding cavalier. I saw him black, tall and majestic… In fact just read the novels "The Black Stallion" It's a horse like that I wanted it.  But less fiery because I have never been very reckless. Was physically the horse of my dreams, with a character that only I could convince.
Then we grow up, dreams change, finally more or less. I always dreamed of the perfect horse, my horse.
I had my first heart in the equestrian center as much. He had a flower name, he was a beautiful palomino, half-blooded Arab greedy as not possible. But it was a horse of equestrian center, not the horse of my dreams.
Then I had some equestrian adventures, a lot of doubts and changes. I took half-board horses. I asked for one of the mares I had on half board, because otherwise it had to be sold.
It was not my ideal, it was his exact opposite. A stressed mare, full of blood, chestnut and Trotter… Anything to displease me on paper.
It was a little over three years ago. It happened to me some not funny things that I do not want to speak, I cried a lot, this mare helped me. It is a reflection of my emotions, the most beautiful as the worst.
Since my dreams became very simple, it was more than her. I bought it to have it always with me.
The horse of my dreams, is a mare. A proud mare, impatient, who does not grant her confidence as we eat a carrot. It is an electric battery under the saddle, which is not afraid of anything by puddles of water and sometimes cows (yes only sometimes). Greedy like me.
She soothes me almost as much as I calm her, sometimes abuses my patience. Hugs Me only when she wants to. She is playful, a little head in the air and a little crazy. I take care to listen to her and she listens to me, at last from time to time. She makes me understand when I go too far, and tries to make me happy when I don't push her enough.
It is the mare who is so proud to know how to do the leg, that she can throw her hoof in her lap.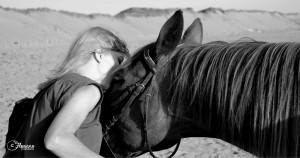 The horse of my dreams is her. It brings me a lot in everyday life, makes me happy, sometimes panicked… She taught me a lot, about horses and horseback riding in general but especially about me.
Finally the horse of my dreams it is not that of everyone is the one who refers me to what I want, what I love, and what I actually.
The horse of my dreams is you.

Eleanor

Edit from 02/04/2017: Mermaid overcame her fear of puddles;)