I had not planned to write this article today, but I saw a new Facebook post that decided me.
Today we're going to talk about horsemen in general. I denounce, the day's rant:
Let's stop clashing between riders!
Horseback riding is a very large world and we had already approached clichés (on horseback riding and trotting) but it would be interesting to listen and understand each other before hitting each other.
The painting on Pony
You have probably seen this surge of commentary on a Riding school (a press article that takes up history) that makes painting on ponies with children. Who has never made a hand in Indian fashion on the rump for the club party? For info Nobody paints on horses with oil painting! We do this with water paint, already because it is not dangerous with children, and then because it is not dangerous for horses either.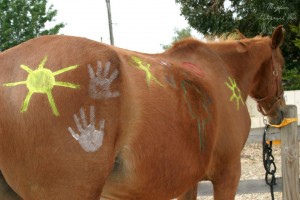 The reins
They're all more or less harmful, stop yelling at the scandal and let me finish. They have to be well adjusted, use by a hand that knows how to operate it. It should be used as an occasional aid and not as an end in itself. So we stop treating sadistic a rider because on a photo he has a reins before even know a little more (unless it is to settle any way, but we remain polite).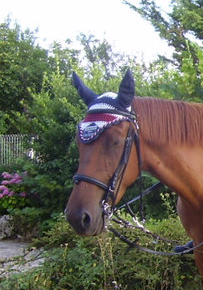 It's still the same mare, mine.
Jaws/without Jaws
Yes I put the 2 in the same topic, because you can do wrong with one as with the other. It is always a good way to use it, also from the head of the horse and the hand of the rider. I've scheduled an article for later on which jaw for which horse;)
Barefoot and railroads
As you have already read in this blog, you know which side I'm in. And I have nothing against the other side. Each one is based on its problems. By cons say that a horse box without iron is a consequence not the cause. The foot is a living structure and therefore there is an influence of the environment like food. Ask yourself questions.
The cover
We have talked about this in the past and it is still a cause of war.
Respect each other's crap!