The sleek brush what is it?
This brush is made in several models for several animals, because a rider also has the right to love dogs and cats (and even else, if if I swear). It is a brush with small teeth to remove dead hair and dust. In short it looks great!
As I did not get the idea of the commissioned, I was able to "interview" Floriane who had the good idea to test it:)
How did you find out about that brush?
► I discovered the brush after sharing a video on Facebook & after several discussions with a friend, we found a site us that sold for less than the brand proposed in the shared video.
What's that brush doing?
► With its small blade, it allows the removal of the dead hair on the horse in a tuft of hairs.
 Why did you try the experiment?
► Try because so far all the brushes I have tested for removal of dead/flying hair on my Big 5 bear (yes she told me Bear, so I transcribed but in real they look like the picture below) had no efficiency & I Found with much more hair on me than on the brush (who has never experienced this?)
What do you think?
► I am conquered! After trying it on my little 4 year old, I found a mare with silky hair to the touch & shiny to the visual.
I passed my hand in the direction of the hair and made a counter-sense, and to the great miracle, more flying hair, a real pleasure.
It was also ideal when cleaning the felt mat (Western carpet) that had hair thicknesses, & As for the horse, many brushes tried, it was an equally remarkable miracle! The 3/4 of hair and dirt present accumulated in a ball for an easy removal and the obtaining of a clean rug that does not pass to the machine cleaning.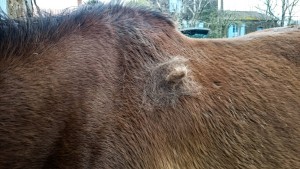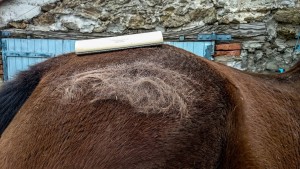 What is its price?
► There are 3 versions so 3 prices.
-The horse version at $20
-The cat version at $13
-The dog version at $16
Plus the shipping costs since this is an import from the USA, on the other hand no customs fees to count (and that's cool)!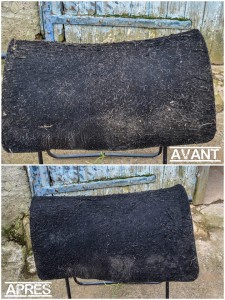 Floriane's photo Facebook

Eleanor